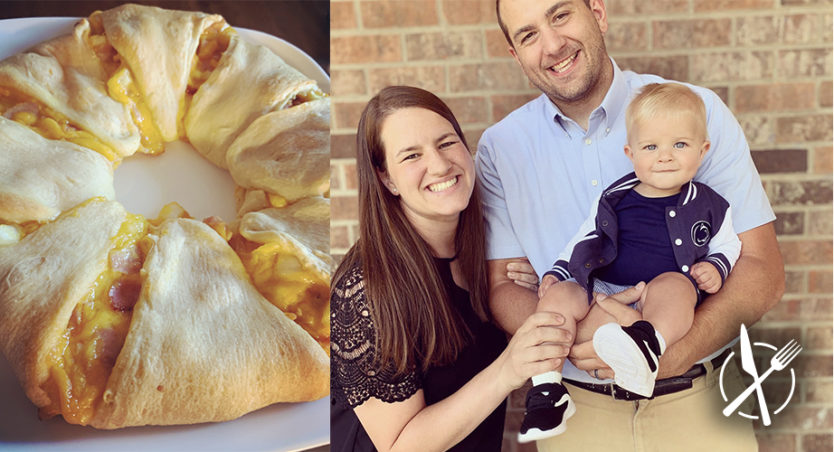 Ingredients
1

tablespoon

butter

(softened)

2

tablespoons

prepared mustard

1

teaspoon

lemon juice

2

tablespoons

onion

(chopped)

1/4

cup

parsley

1

cup

chopped or shredded ham

1 1/2

cups

shredded cheese

1

tube refrigerated crescent rolls
Instructions
Preheat oven to 350°F.

In a medium sized mixing bowl, combine butter, mustard, and lemon juice.

Stir in onions, parsley, ham, and cheese. Blend well.

In a lightly greased baking dish, arrange crescent rolls in a circle with points out to form a star and centers overlapping.

Place meat and vegetable mixture in center of crescent dough the entire way around the circle.

Fold outside ends of crescent rolls over the mixture to meet in the middle, forming a ring.

Bake for 25 minutes until hot in the center and golden.
Notes
From the Kitchen of Kelsey Baublitz, Deer Stone Ag
Kelsey Baublitz is a second generation pig farmer from Central Pennsylvania, working side by side with her family to raise over 90,000 hogs annually. She wears many hats on the farm and never fails to pitch in where needed on a day-to-day basis. Specifically, Kelsey's role at Deer Stone Ag focuses on various functions that prioritize the pork industry's We CareSM ethical principles, including

animal well-being

by supervising the nursery barn, and

our people

by ensuring the health, safety and education of Deer Stone staff.
Pig Farming Family Fun Fact: Kelsey's husband was a Division One college athlete who played football and knows the importance of lean protein in a balanced diet. He's happy to be a part of a pig farming family that provides delicious, nutritious and safe products for consumers AND that makes sure there's plenty of pork on his fork at family get togethers.