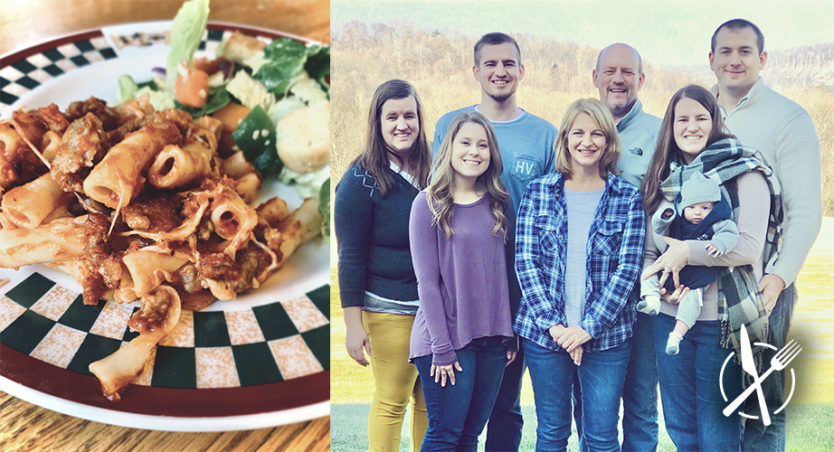 Ingredients
1 1/2

pounds

ground sweet or hot Italian sausage

1

jar marinara sauce

about 32 ounces

1

pound

ziti

Extra virgin olive oil

1

pound

shredded Mozzarella cheese
Instructions
Preheat oven to 350°F

Boil pasta in salty water according to the package

instructions, to al dente or your preferred firmness.

Drain and set aside. Toss in olive oil to prevent pasta

from sticking together.

Brown sausage in a skillet over medium-high heat; drain off excess fat

Add spaghetti sauce and simmer for 15 minutes

Layer in greased 9x13 baking dish. Place half of cooked ziti first. Top with all of cheese. Spoon half of the marinara sauce over the pasta and cheese. Add remaining ziti. Cover with remaining sauce.

Bake for 30 minutes until top is lightly browned and cheese is melted, or until piping hot.
Notes
From the kitchen of the Derstein family, Deer Stone Ag
Meet the Derstein family, two generations of pig farmers operating an independent farrow to finish pig farm in Central Pennsylvania. Together with other family owned farms, they partner to care for approximately 4,000 sows and produce more than 90,000 pigs each year. 
With a focus on sustainability, the Derstein farm is also home to over 1,000 solar panels, producing enough electricity to fully maintain the farm, and then some, depending on the time of year.