Pennsylvania's pig farmers have a long standing tradition of commitment and caring, for the animals we raise, the people we work with, the land we tend and the communities we call home, just down the road from neighbors like you. And we stand for the values our farms are built on, right down to our roots, including these six ethical principles that guide us to make a positive impact beyond our barn doors:
Get To Know Pennsylvania's Pig Farmers
The roots run deep on many of the nearly 3,000 pig farms scattered across the Keystone State. Often, multiple generations work side-by-side to bring you quality pork raised with the animals' well-being in mind, and with a focus on flavor and nutrition for your family, too. Get to know Pennsylvania's real pig farmers.
Meet the Augsburgers – A Family that Farms Together
Five generations live and work on the 300-acre Augsburger farm in Lancaster County, PA, where they're raising more than 35,000 pigs per year, in addition to their growing family. Here you'll find Scott Augsburger tending the same land that his father and grandfather did before him, and that his sons tend alongside him today. Though the equipment, buildings and approaches may look different as the years pass, their own unique blend of humor and hard work helps the Augsburgers find fulfillment in seeing their family's pig farming tradition carry on through the generations and in seeing satisfied customers enjoy the quality pork they produce.
https:/C:UsersnukagLocal%20Sitespaporkapppublic.youtube.com/watch?v=KHRZbTWyVlI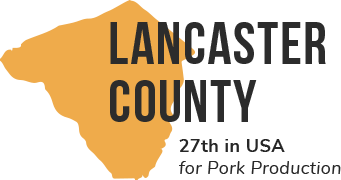 Did you Know?
Lancaster County is the heart of Pennsylvania's pork industry, ranking first in the state for hog production. Lancaster is also ranked 27th in the United States for pork production, making it the lone Pennsylvania county to break the list of top 100 pork producing counties in the country. With just under 314,000 hogs on hand in the county, and a population of nearly 546,000, that's one pig to every 1.75 people! #agfacts
Meet DJ Boop – Proof The Pig Farmers Go the Distance On AND Off the Farm
Like you, our pig farming families work hard, and they play hard too. A labor of love, pig farming requires proper planning, mindful management, enthusiasm and the desire to constantly improve. These same principles apply to their off-the-farm hobbies, too. DJ Boop, the 27-year-old majority owner of his family's 450-acre, 4th generation farm in Union County, PA, partners with his Dad to care for more than 24,000 pigs each year. That's over 5 million pounds of pork served up to our neighbors across the Commonwealth annually!
With such responsibility to the animals, the environment, the community and to consumers like you, one can imagine DJ enjoys some time well spent at his favorite pastime – competitive tractor pulling. At speeds of up to 30 miles per hour and pulling 40,000 pounds of weight (that's the same as 143 fully grown hogs at market weight), DJ's top notch pulling tractor carries him down the track to success at competitions across the northeast on a regular basis. He applies many of the principles used in pig farming to his hobby. It's easy to see – DJ is pulling for the pork industry, even when he's on a tractor away from the barn, and he has the championship trophies to prove it.
https:/C:UsersnukagLocal%20Sitespaporkapppublic.youtube.com/watch?v=UUI96Ja56x4
Meet Pennsylvania's Own Chris Hoffman – America's 2019-2020 Pig Farmer of the Year
Chris Hoffman aspired to work in law enforcement but was called to life on the farm and, more than 25 years later, wouldn't have it any other way. Today, he operates a farrow to finish farm on 250 acres in Juniata County, PA, where he and his family raise over 35,000 pigs each year. As a first-generation farmer, Chris had to build his pig farm from the ground up, learning lessons along the way and developing a progressive yet realistic philosophy that's afforded both Chris and his farm gradual growth to where he is today – a passionate advocate for pig farming and agriculture, and a nationally recognized pork producer.
Chris was named America's Pig Farmer of the Year by the National Pork Board in October 2019, the first ever recipient of the award to hail from Pennsylvania. The award recognizes pig farmers in the U.S. that exemplify industry leadership, a demonstrated focus in raising pigs following the We Care ethical principles and a commitment to connecting consumers with the farmers who raise the pork they consume. Chris attained the highest score in third-party judging and online voting for his industry leadership and has travelled the country as an ambassador and voice for the pork industry throughout his time as America's Pig Farmer of the Year.



PA Newscaster Gets an Inside Look at Chris Hoffman's Pig Farm