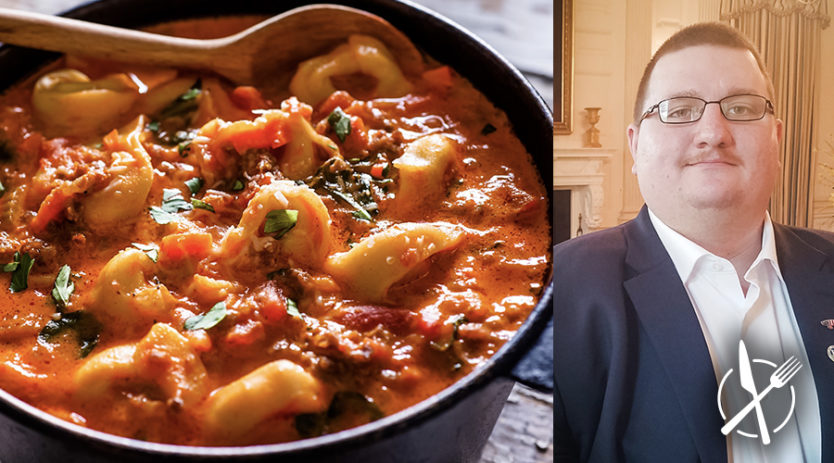 Ingredients
2

lbs.

hot ground sausage

1

onion

coarsely chopped

1

green pepper

coarsely chopped

6

celery stalks

chopped, including leaves

2

tablespoons

fresh parsley

chopped

5

tablespoons

hot sauce

4

oz.

J.B. Jamison soup base – ham flavor

prepared as directed

2

packages Tri-color cheese tortellini
Instructions
In a large heavy saucepan or Dutch oven, brown sausage over medium-high heat until cooked.

Add onion, green pepper and celery – sauté until soft.

Prepare and add base: dissolve 1 teaspoon base in 8 oz. water.

NOTE: For each quart of stock needed, use approximately 4 teaspoons base, as directed on package. Prepare enough for approximately 6 quarts.

Add hot sauce. Bring to a boil, stirring well.

Reduce heat and cover until at a simmer.

Add tortellini and parsley. Cook on high until soft; do not boil. Both the pasta and parsley will cook quickly, so watch closely to prevent overcooking.
Notes
Ben Barcovtch has been involved in the pork industry for more than two decades, but has spent his life in agriculture, growing up on a dairy and row crop farm in western Pennsylvania. Today, he serves as a Service Manager for Country View Family Farms, working with 15 families to raise over 100,000 hogs annually. Ben is passionate about pig farming and regularly advocates on behalf of the industry at the state and federal levels, making multiple trips to Washington, D.C. each year and serving on various national industry task forces and committees. Notably, Ben was Pennsylvania's 2018-2019 representative to the national Pork Leadership Institute and has helped to develop the new PA Pork Emerging Leaders Academy, set to launch in early 2021, aimed at nurturing future industry leaders.