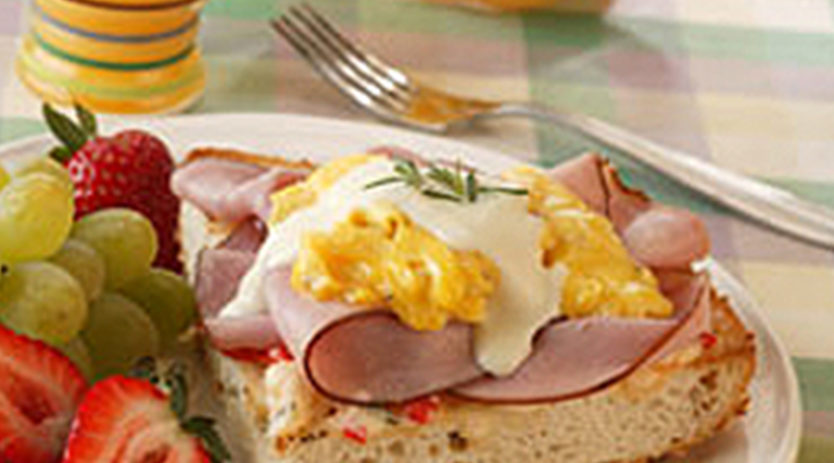 Ingredients
1

focaccia bread

(12-inch, round or square, Italian flat bread, split horizontally)

3/4

cup

mascarpone cheese

(3 ounces)

2

tablespoons

roasted red peppers

(chopped)

2

teaspoons

fresh rosemary

(snipped)

6

eggs

1/4

cup

water

1/4

teaspoon

salt

1/8

teaspoon

pepper

1

tablespoon

butter

16

slices

ham

(thinly sliced)

1

tablespoon

butter

1

tablespoon

flour

1/8

teaspoon

salt

1/8

teaspoon

pepper

1

cup

half and half

(OR heavy cream)

3/4

cup

asiago cheese

(grated)

fresh rosemary

(OR parsley, snipped, optional)
Instructions
Preheat broiler. Broil cut sides of focaccia until toasted. Remove from broiler.

In a small bowl, combine mascarpone cheese, roasted peppers and 2 tsp rosemary. Spread some of the mascarpone mixture on each half of the focaccia. Cut each half of the focaccia into 4 wedges or squares.

Meanwhile, with a whisk or fork, in a medium bowl, beat eggs, water, 1/4 tsp salt and 1/8 tsp pepper together until combined. In a 10-inch skillet, melt 1 Tbs butter over medium heat. Pour egg mixture into skillet. Cook, without stirring, until mixture begins to set. Cook for 4 to 5 minutes more or until eggs are cooked through but still moist, lifting and folding often to assure eggs cook evenly. Remove from heat; keep warm.

To assemble focaccia, broil cheese-topped wedges or squares for 2 minutes. Top each with 2 slices of ham and some of the scrambled egg mixture. Spoon some of the Asiago Cheese Sauce (instructions follow) over each wedge or square. If desired, garnish with additional snipped rosemary or parsley.

Asiago Cheese Sauce: In a small saucepan, melt 1 Tbs butter over medium heat. Stir in flour, 1/8 tsp salt and 1/8 tsp pepper. Stir in half & half or light cream. Cook and stir over medium heat until thickened. Cook and stir for 1 minute more. Stir in grated 3/4 cup Asiago cheese until melted. Makes about 1 1/4 cups sauce.
Notes
Recipe courtesy of Yummly.com