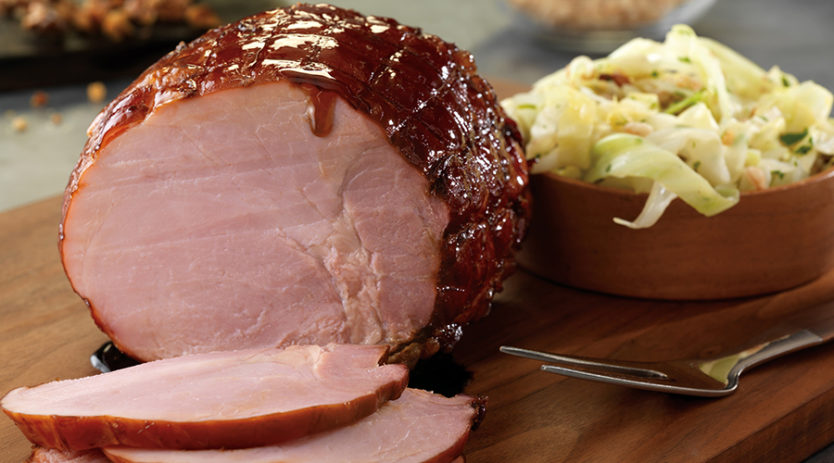 Ingredients
3

pounds

boneless ham

Netting Removed

1

quart

apple cider

1

yellow onion

Thinly Sliced

1

fennel bulb

9 Ounces, Fronds Removed, Thinly Sliced

2

stalks celery

Strings Peeled And Cut In Half

1

Orange

Zested And Juiced, 1/3 Cup Juice

3

sprigs fresh thyme

3

sprigs fresh thyme

1/2

teaspoon

dried thyme

1/3

cup

molasses

Not Blackstrap

1

cup

farro

Preferably Pearled Or Semi-Pearled

2

cups

walnuts

2

tablespoons

extra virgin olive oil

1

teaspoon

kosher salt

1/2

teaspoon

black pepper

1

head green cabbage

About 2 1/2 Pounds, Quartered, Cored, And Cut Lengthwise Into 1/4 Inch Strips

3

tablespoons

apple cider vinegar

1/2

cup

fresh parsley

Chopped

2

tablespoons

fresh thyme

Chopped Or 2 Teaspoons Dried
Instructions
Preheat oven to 350 degrees F.

In a large Dutch oven, add the cider, onion, fennel, celery, orange zest and juice, and thyme and bring to a boil over high heat. Add the ham, reduce the heat to low, and cover tightly. Simmer, occasionally turning the ham, for 30 minutes. Remove from the heat, uncover, and let stand for 10 minutes.

Transfer ham to a plate. Strain cooking liquid through a wire sieve over a large bowl, reserving solids and liquid. In a large, wide saucepan, bring the liquid to a boil over high heat. Cook until reduced to about 1 1/2 cups, 40 to 45 minutes. Set the reduced liquid aside to use in the slaw.

Meanwhile, transfer the poaching solids to a roasting pan and place the ham on top. Bake for 10 minutes. Brush with some of the molasses. Continue baking, brushing with more molasses every 10 minutes, until ham is glazed and a meat thermometer inserted in the center of the ham reads 150 degrees F, about 30 minutes more. Let stand at room temperature for 10 minutes before slicing.

Cook the farro: Bring a medium saucepan of salted water to a boil over high heat. Add the farro and reduce the heat to medium. Cook until the farro is tender and beginning to burst, about 20 minutes.(Be flexible with cooking times, as whole grain farro could take up to 45 minutes to cook.) Drain in a wire strainer, rinse under cold running water, and drain well. Set aside.

Cook the walnuts: Toss walnuts, oil, 1 teaspoon salt, and 1/2 teaspoon pepper on a rimmed baking sheet. Bake, stirring occasionally, until deep amber, 15 to 20 minutes. Drain on paper towels. Coarsely crush the walnuts. Set aside.

Cook the cabbage:Bring a pot of salted water to a boil over high heat. Stir in the cabbage, cover, and return to a boil. Uncover and cook until crisp-tender, about 3 minutes. Drain well in a colander and return to the cooking pot.

Stir in the vinegar into the warm cabbage. Add the walnuts, farro, parsley, and thyme and mix well.Stir in the reserved reduced cooking liquid. Season to taste with salt and pepper.

Slice the ham crosswise. Spread the warm slaw on a large, deep platter and top with the ham. Brush the ham slices with any leftover molasses, and serve.